TCY enable growth as S Lester Packing Materials Ltd make single biggest investment in their history
TCY Machinery UK has supported the continued growth of one of the country's leading big box specialists, S Lester Packing Materials Ltd.
Established as a second-hand box seller in 1983 by Stephen Hutchinson, UK-based S Lester has grown significantly. Today, the company employs 30 people and Group turnover exceeds £7m.
The company took a huge step forward in early 2020, with the installation of a new TCY jumbo casemaker. "This is the single biggest investment in the history of the company" explains Hutchinson.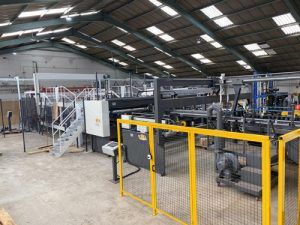 First of its type in the UK
"The reason we invested in the new TCY jumbo was to strengthen our position in the market. This is the first of its type in the UK and certainly sets us apart from many others in the big box sector. We really want to create a reputation as being the 'Big Box Specialists' within the UK. There aren't many companies in the industry that focus on this area of the market, so we saw it as an opportunity to differentiate ourselves.
The TCY 'Smart Tech Jumbo Flexo' casemaker is a large format, two colour machine. It features in-line glueing, stitching and die-cutting. It is suited to high volume and heavy-duty work, handling a wide range of corrugated board grades, from single wall through to triplewall. This offers both quality and efficiency on large format and heavy-duty case work. It has a 2500 x 4800mm maximum blank size and S Lester chose to further automate the line with the addition of a Fossaluzza pre-feeder, stacker and handling system and PZ in-line stitcher unit.
He continues, "We first entered the big-box market in 2007, investing in a single machine that could convert large format corrugated packaging. We found success in this area of the market and made further investment to enhance our capacity with two additional machines.
TCY 'Smart Tech Jumbo Flexo' casemaker increases productivity
"While we continued to have success, we wanted to enhance our offering to both current and prospective customers. Adding this jumbo TCY, we saw the opportunity to bring further benefits, such as increased productivity, which would reduce lead times for our customers. Investing in specialist production technology allows us to increase the quality of our finished product while offering additional features such as flexo printing and rotary die-cut capabilities for big format boxes."
Big, Big and Bigger
"Our core products to the trade are large format, heavy-duty solutions from pallet boxes and bulk shippers, to Octabins and XXL packaging," adds Hutchinson. "We actively source the most cost-effective, sustainable raw materials which allow us to offer our trade partners competitive prices. Our fleet of plain trucks and use of supplied delivery notes allows us to deliver on our partner's behalf, in the strictest confidence.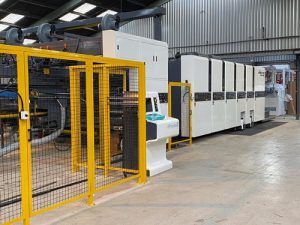 Investment in TCY jumbo critical to long-term growth
He concludes, "We are always planning long term and our investments provide the capacity to grow further as a group, all the while, enhancing our offering. We will continue to make corrugated boxes and packaging of all sizes and styles. However, we really want to focus on large-format, heavy-duty industrial solutions such as bulk shippers and pallet boxes. The addition of this new TCY jumbo should certainly help us achieve our ambitions over the coming years."
For further information on the products and services offered by TCY contact the UK-based team to arrange a quick chat.